Welcome to the Tubadoc…
… thank you for visiting my homepage!
Tubadoc is a master workshop for brass instruments specialized in the top-quality repair and restoration, as well as the purchase and sale of used instruments.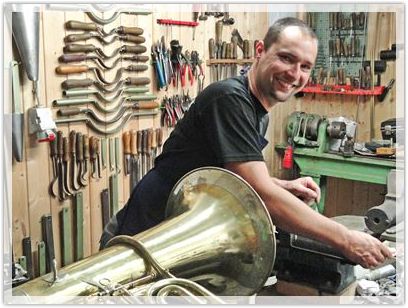 The main focus of the workshop is on deep brass, particularly tubas of any kind. Of course smaller patients (trumpets, flugelhorns, etc.) will also be treated.
Thanks to over 20 years of professional experience in the manufacture of brass instruments, I am able to employ modern techniques paired with traditional methods of the trade while meeting nearly any request of my customers on the highest level of quality. Offering high quality work as well as the best service at affordable prices is a matter of course to me.
I would be happy to welcome you as a new customer!
Sincerely,
Your Ronny Münze